As a part of prototyping development for the New Publisher refactor for Blackmagic Design DaVinci Resolve I'm looking to also convert the legacy Create Clip creator.
Which turns Create Publishable Clip into this: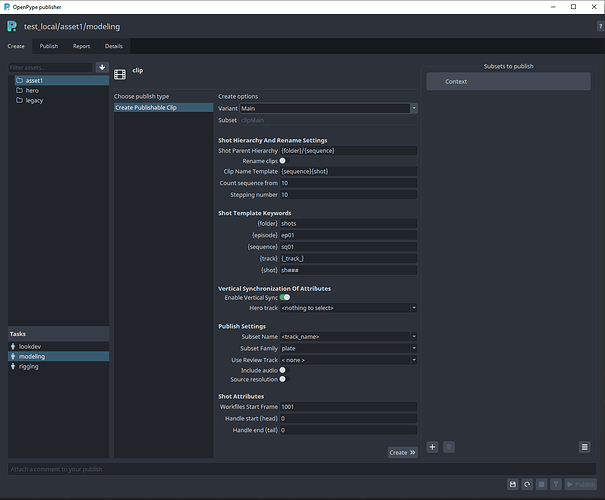 Design wise - how would I build a new-style Creator (@iLLiCiT ?) that is basically just there in the Creator UI to "Create" instances but then create different instance types. (It basically spews out a lot of instances on Create) and I'd like to also have the possibility to have a Creator that creates just the one instance.
So it's like:
Create Clip - single instance
Create Clip Batch - process the timeline using some settings on the Creator to create 10s or 100s of instances of Create Clip.
Extra tricky in this case is that the publishing of the Create Clip might need to publish into currently non-existing assets/subsets because the publishing itself can generate them. (It's basically clip batch of editorial ingesting). Are there good new style publisher examples doing this already? What do those entries show as 'asset', etc.
Am I think about this the right way @jakub.jezek - or maybe you could do a screen recording of the expected behavior in Resolve and maybe provide input on how you'd expect that to translate to the new publisher.