I had a discussion with an artist recently who mentioned a feature from another pipeline that he used recently that he really liked, thumbnails for workfiles. Basically the work file browser could show these thumbnails as you click a particular workfile.
Where to show?
So basically in the workfiles tool it would show a thumbnail top right. The thumbnail could be e.g. saved next to the workfile with the same name but with extension .jpg and that would then show in the UI.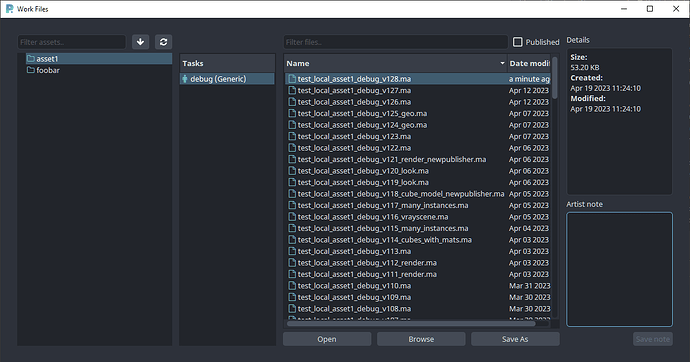 Top right here it would then show a thumbnail - that's some sweet sauce!
When to generate or what thumbnail to show?
The thumbnails could e.g. be generated on workfile save with a little "capture screenshot" tool or maybe even a dedicated capture from the host (e.g. single frame playblast or M3DView api image save in Maya).
Another approach could also be that during publishing when e.g. a review is published that it could take maybe a first frame of it as a thumbnail.
We could even say that IF a workfile had been involved with a publish that on the right hand side it could show the outputs of that workfile and if any of those publishes had thumbnails that it could pick show any of those thumbnails. That'd be quite perfect?
---
Would love to hear thoughts on this!
Especially on implementation with regards to where the thumbnail should be and how it should be linked? (Also with keeping an eye on potentially remote artists connected with site sync, etc?)