I'm getting a bit stuck with the new publisher on refactoring e.g. the Maya workflow for rendering or implementing the Substance Painter integration. The issue I have is that I seem to be dealing with the concept of an instance or export that will result in multiple subsets of which I might or might not want to show all instances in the UI.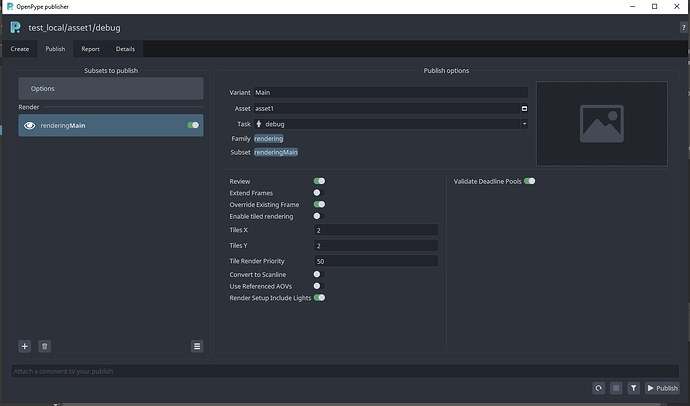 Maya render
In Maya render we always had a single renderglobalsDefault or renderingMain instance or something. Upon publishing this would split into separate instances (one per renderlayer) which is what the user would be seeing in the publishing UI which they could then turn on/off for publishing as they pleased.
With the new UI I'm not sure how to do that.
I want a single creator creating that single instance node? But still want the single creator to only when ever created result in multiple instances visually in the UI? Almost sounds like an AutoCreator creating multiple instances ONLY when a specific node exists in the scene, but then how does the user create that node from the publisher?
If I were to implement instance settings like in the screenshot above and there were multiple renderlayers then magically they wouldn't all have their own "set" of settings so toggling an option for ONE of the renderlayers would technically be toggling it for all of the renderlayers because it's on the same single instance node in the scene.
I have a feeling somehow that we'd actually need to start separating this explicitly into the instances per layer as publish set to, like is already somewhat done in the outliner:

And potentially thus moving the settings to those individual layers? However that logic currently maintaining those renderlayer sets isn't too stable yet for that to be reliable enough? E.g. delete a layer, undo… and voila they are not in sync anymore:

Substance Painter
The substance painter integration issue is slightly different because in that case I CAN have multiple top instances but each of those instances would split into a multiple texture subsets.
We can decide to either:
keep it visually like a single texture pack you'd export in publish UI (less instances user toggles, etc.)
or per texture pack show all subset instances, showing each individual UDIM texture sequence it will output (this output however is dependent on the "export preset" chosen for the instance.
In this case I think option 1) is visually the best case. However, not sure how we could then per instance, based on the export preset chosen let the user choose WHICH channels/maps of the texture set to export.
Say PBR Metallic Roughness exports pack (simplified):
Diffuse
Metallic
Roughness
Now the user might want to toggle one of those three off for the export? Maybe?
References
Related topics:
Substance Painter Integration

#4283

Maya Refactor to new Publisher

#4388
---
Let me know if anything is a bit unclear - was a bit in a rush while I typed this up.