In settings, you can customize the entities root folders for assets and shots:


This allows you to create a tree of folders where all assets or shots will be put under. The issue is, I don't see any use case where we will need more than Assets/ or Shots/ to put all the related entities.
Moreover, that's how things are classified in Kitsu: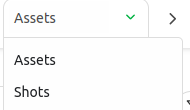 Therefore, I propose to drop this settings feature to keep a simple Assets and Shots, not customizable.